Want 10% off?
GDPR Privacy Policy for We Are Not Friends
At We Are Not Friends, accessible at weare-notfriends.com, one of our main priorities is the privacy of our visitors. This Privacy Policy document contains types of information that is collected and recorded by We Are Not Friends and how we use it.
If you have additional questions or require more information about our Privacy Policy, do not hesitate to contact us through email at letsbefriends@weare-notfriends.com
General Data Protection Regulation (GDPR)
We are a Data Controller of your information.
We Are Not Friends legal basis for collecting and using the personal information described in this Privacy Policy depends on the Personal Information we collect and the specific context in which we collect the information:
We Are Not Friends needs to perform a contract with you
You have given We Are Not Friends permission to do so
Processing your personal information is in We Are Not Friends legitimate interests
We Are Not Friends needs to comply with the law
We Are Not Friends will retain your personal information only for as long as is necessary for the purposes set out in this Privacy Policy. We will retain and use your information to the extent necessary to comply with our legal obligations, resolve disputes, and enforce our policies.
If you are a resident of the European Economic Area (EEA), you have certain data protection rights. If you wish to be informed what Personal Information we hold about you and if you want it to be removed from our systems, please contact us.
In certain circumstances, you have the following data protection rights:
The right to access, update or to delete the information we have on you.
The right of rectification.
The right to object.
The right of restriction.
The right to data portability
The right to withdraw consent
Log Files
We Are Not Friends follows a standard procedure of using log files. These files log visitors when they visit websites. All hosting companies do this and a part of hosting services' analytics. The information collected by log files include internet protocol (IP) addresses, browser type, Internet Service Provider (ISP), date and time stamp, referring/exit pages, and possibly the number of clicks. These are not linked to any information that is personally identifiable. The purpose of the information is for analyzing trends, administering the site, tracking users' movement on the website, and gathering demographic information.
Cookies and Web Beacons
Like any other website, We Are Not Friends uses 'cookies'. These cookies are used to store information including visitors' preferences, and the pages on the website that the visitor accessed or visited. The information is used to optimize the users' experience by customizing our web page content based on visitors' browser type and/or other information.
DoubleClick DART Cookie
Google is one of a third-party vendor on our site. It also uses cookies, known as DART cookies, to serve ads to our site visitors based upon their visit to www.website.com and other sites on the internet. However, visitors may choose to decline the use of DART cookies by visiting the Google ad and content network Privacy Policy at the following URL – https://policies.google.com/technologies/ads.
Some of advertisers on our site may use cookies and web beacons. Our advertising partners are listed below. Each of our advertising partners has their own Privacy Policy for their policies on user data. For easier access, we hyperlinked to their Privacy Policies below.
https://policies.google.com/technologies/ads
Privacy Policies
You may consult this list to find the Privacy Policy for each of the advertising partners of We Are Not Friends.
Third-party ad servers or ad networks uses technologies like cookies, JavaScript, or Web Beacons that are used in their respective advertisements and links that appear on We Are Not Friends, which are sent directly to users' browser. They automatically receive your IP address when this occurs. These technologies are used to measure the effectiveness of their advertising campaigns and/or to personalize the advertising content that you see on websites that you visit.
Note that We Are Not Friends has no access to or control over these cookies that are used by third-party advertisers.
Third Part Privacy Policies
We Are Not Friends's Privacy Policy does not apply to other advertisers or websites. Thus, we are advising you to consult the respective Privacy Policies of these third-party ad servers for more detailed information. It may include their practices and instructions about how to opt-out of certain options. You may find a complete list of these Privacy Policies and their links here: Privacy Policy Links.
You can choose to disable cookies through your individual browser options. To know more detailed information about cookie management with specific web browsers, it can be found at the browsers' respective websites. What Are Cookies?
Children's Information
Another part of our priority is adding protection for children while using the internet. We encourage parents and guardians to observe, participate in, and/or monitor and guide their online activity.
We Are Not Friends does not knowingly collect any Personal Identifiable Information from children under the age of 13. If you think that your child provided this kind of information on our website, we strongly encourage you to contact us immediately and we will do our best efforts to promptly remove such information from our records.
Online Privacy Policy Only
This privacy policy applies only to our online activities and is valid for visitors to our website with regards to the information that they shared and/or collect in We Are Not Friends. This policy is not applicable to any information collected offline or via channels other than this website.
Consent
By using our website, you hereby consent to our Privacy Policy and agree to its Terms and Conditions
Company
wearenotfriends SL - ESB42902627
c/Pallars, 232, 1-3 . 08005 Barcelona
KLARNA
Legal & privacy
Follow our best practices to make your integration robust, fast and secure
12 min read
Legal & privacy
When adding Klarna Checkout to your site, you need to consider:
Data protection and data sharing aspects
T&C information Please seek legal advice to ensure compliance with applicable regulations.
Please note that in order for your use of personal data to comply with applicable laws, such as the GDPR and the E-Privacy Directive, you may not use any customer data provided through the Klarna integration before an order has been placed.
This includes, but is not limited to:
Populating data fields outside the Klarna checkout iframe
Creating user accounts before active consent has been given
Any marketing purposes, including but not limited to abandon cart retargeting before the customer has finalized the purchase.
National and EU rules such as the GDPR sets certain limits to how and when you may share customer-identifying information with Klarna.
If you share personal data with Klarna you need to explain this in your privacy notice and link to Klarna's privacy notice there. Below is an example of what that could look like in your existing privacy notice (the specific data categories transferred to be added, and text to be translated into your local language):
"We use Klarna as the provider of our checkout. This means that we might transfer your personal data in the form of contact and order details to Klarna when the checkout is loaded, in order for Klarna to manage your purchase. Your personal data transferred is processed in line with Klarna's own privacy notice."
In Switzerland, Klarna offers the payment method Invoice through its subsidiary Billpay. If you share personal data with Klarna and Billpay to offer this payment method you need to explain this (in addition to the above) in your privacy notice and link to Klarna's and Billpay's local privacy notices there. Below is an example of what that addition could look like in your existing privacy notice (the specific data categories transferred to be added, and text to be translated into your local language):
Billpay's/Klarna's payment options: In order to be able to offer you Klarna's payment options and to assess whether you qualify for their payment options and to tailor the payment options for you, we might in the checkout pass your personal data in the form of contact and order details to Klarna and Billpay. Your personal data is handled in accordance with applicable data protection law and in accordance with the information in Klarna's [de, fr, it or en versions] and Billpay's [de, fr, it or en versions] privacy notices.
Ensure that your terms and conditions reflect your cooperation with Klarna, and that you comply with applicable laws.
Note that the information provided in this article is intended for general information purposes only and does not constitute legal advice, professional advice, or an opinion of any kind as to your individual needs. You are encouraged to seek the advice of a competent professional where such advice is required.
Purpose
The main purpose of the REGULATION (EU) 2018/302 is to prevent geo-discrimination of European customers when shopping online within the EU; setting different requirements for customers based on the country of residence.
Essence
Generally, it comes down to being able to shop like a local. This means equal order, payment and delivery options for both foreign (being other EU customers) and domestic customers when shopping online.
Scope
The regulation applies to B2C and B2B (provided that the B2B transaction is not based on an individually negotiated contract, but subject to general terms and conditions). All goods and services, including digital, are in scope, but there are exceptions and limitations.
Timeline
Came into force on December 3, 2018.
Guidance
Read about the regulation here.
Payment methods in the Checkout
All payment methods in Klarna Checkout and the way in which they are displayed to users will not be affected by the new regulation.
Example - You are a German merchant offering Klarna checkout in Germany. An Italian user wants to place an order on your site.
You as a merchant don't have to do anything. Klarna Checkout will show the payment methods relevant to the user.
Billing & Shipping
You have to allow any EU citizen to shop from your site, but you don't have to ship to all EU countries. Where you ship to will not be affected by this regulation.
Example - You are a German merchant offering shipping within Germany only and have configured the checkout for separate shipping and billing. An Italian customer wants to place an order on your site. You are not allowed to restrict the Italian customer from placing the order but you are not obligated to ship outside of Germany. To solve for this situation, you need to add IT to Klarna Checkout via our country selector (IT is part of our Global/Extended market offer), or turn off separate shipping.
Alternative 1 - Country selector for IT, read more here. This setup will solve the situation by giving users a country selector where they can choose Italy as their billing country. As the user moves to shipping address, you have the possibility to restrict country availability, read more about that here.
Alternative 2 - Turn off separate shipping, read more here. By doing so, there will not be a separate shipping form under the billing form. The user will consider the address form to cover shipping. Given this setup, the Italian customer can now add their personal name, email and phone number, and a German shipping address.
English
New credit legislation - How you will be impacted
New legislation has been adopted by the Swedish Parliament stating that if both credit and debit payment options are offered by a merchant, the debit option(s) must be presented before the credit option(s) in the checkout. This law takes effect 1 July 2020.
Here's what you need to know if you have the following payment & checkout options: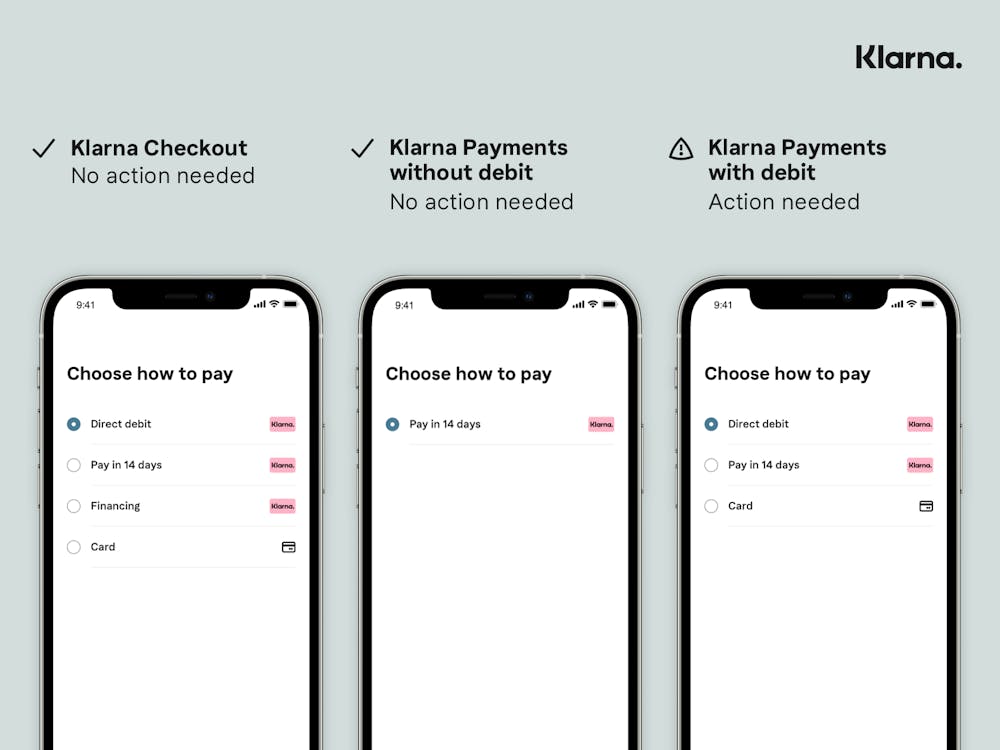 Klarna Payments (KP) with no debit options: No action required.
You are only required to make sure a debit option is placed as the first option if you offer it as a payment method.
Klarna Payment (KP) with debit options: Action required.
As a merchant, you are in control of the order in which payment methods are organized inside your checkout and will need to take steps to comply with the new law.
Continue reading for more details on how KCO will be presented, and what actions we recommend if you have KP with debit options.
What the new law means
New legislation (Regeringens proposition) adopted by the Swedish Parliament will take effect on 1 July 2020, and will only be applicable to Sweden. The law sets requirements on the presentation of payment methods in online checkouts, enforcing debit payment options to be displayed before any credit payment options, if both are available.
Obligations in the new regulation apply to any parties who present or process payment methods. This includes: merchants, partners, and Payment Service Providers (PSP) like banks. To navigate the new changes, we've published guidelines, to help our merchants and partners to ensure compliance with the legal requirements.
What does this mean for me as a merchant?
The impact for you as a merchant will depend on what payment methods you offer and what checkout solution you use. The new legislation does not require merchants to provide debit payment methods, but does regulate how to present them in an online checkout if you do.
Below is an overview of Klarna payment methods, and how each categorizes in terms of credit or debit options.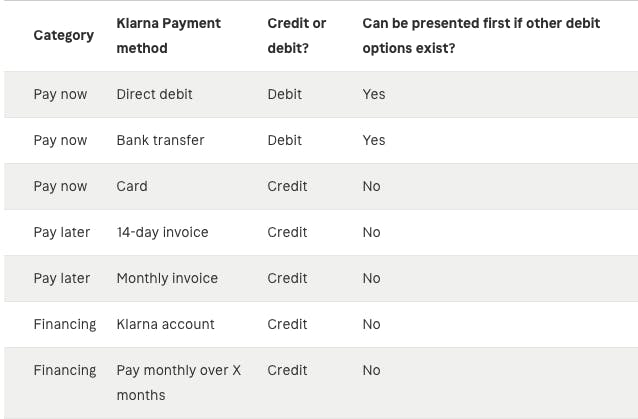 What do I need to do to be prepared?
Merchants with Klarna Checkout (KCO v2 & v3)
No action needed. Klarna will update the current KCO solution for the Swedish market to make sure that the new legal requirements are followed. You will notice that debit payment methods such as Direct Debit, (when available), will be presented as the first option in your checkout.
Merchants with Klarna Payments (KP)
If you offer Klarna Payments in your checkout, Klarna cannot control the order or logic in which the payment methods are presented. Therefore, as a merchant you are solely responsible to ensure your checkout is compliant and lawful according to the new legislation before it enters into force (1 July 2020).
If you have Klarna Payments (KP) and multiple Klarna payment methods within the same widget then we will manage the logic of sorting these. If a debit payment option exists then that will be displayed first. Credit payment methods that include interest rate will always be displayed as the last option if others exist. If the multiple Klarna payment methods are placed in different widgets then we cannot control in what order they will be sorted.
Klarna will discontinue support of Klarna Payment Methods (KPM) as of September 2020. Action recommended.
Klarna will no longer be supporting KPM as of September 2020. For automatic updates (including legal compliance), we recommend all merchants move to Klarna Checkout (KCO) or Klarna Payments (KP). With KCO, Klarna will handle the sorting of payment methods for you. To migrate to KCO, you can use the self service flow that is available in the merchants portal (link). Please reach out to your Klarna account manager to get more information about pricing and how to transfer to Klarna Checkout or Klarna Payments.